Symposium sheds light on life and career of Lieutenant General Dong Sy Nguyen
The Ministry of Defence in coordination with the Government Office and the Quang Binh Provincial Party Committee organised a symposium in Dong Hoi city on February 24 to mark the 100th birthday of Lieutenant General Dong Sy Nguyen (1923 - 2023).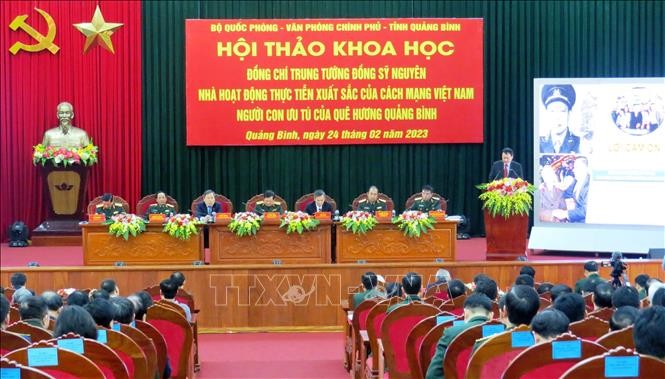 An overview of the event (Photo: VNA)
Themed 'Lieutenant General Dong Sy Nguyen - an excellent practical activist of the Vietnamese revolution and an excellent son of Quang Binh', the event attracted the participation of leaders of the Ministry of Defence and Quang Binh province, as well as army officials and soldiers, scientists, historical witnesses, and 400 delegates.
In his opening speech, Lieutenant General Le Huy Vinh, Deputy Minister of Defence, recalled that over 70 years of joining revolutionary activities, Lieutenant General Dong Sy Nguyen experienced several positions in many different fields, stressing that while holding any position, Nguyen successfully fulfilled all tasks assigned by the Party, State and people.
With his sharp thinking and strategic vision, Nguyen made significant contributions to national construction and defence and proved his important role in many key national projects.
He always paid special attention to his hometown Quang Binh and contributed valuable opinions to the provincial Party Committee and authorities, with the hope that Quang Binh would develop more prosperously.
A total of 80 speeches were sent to the event, affirming the excellent contributions of Lieutenant General Dong Sy Nguyen, while showing deep respect and gratitude to the talented army leader.
Dong Sy Nguyen (birth name Nguyen Huu Vu, alias Nguyen Van Dong) was born on March 1, 1923, in Quang Trung commune of Quang Trach district, in the central province of Quang Binh.
He began participating in revolutionary activities in 1938 and was admitted to the Party in December 1939. He was the former Commander of High Command 559, which opened and operated the Ho Chi Minh Trail during the war; Deputy Minister of National Defence; Minister of Construction; Minister of Transport; Vice Chairman of the Ministers' Council (a position now titled Deputy Prime Minister).
He passed away in 2019 after a period of serious illness.
Source: NDO